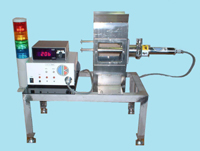 Warning devices for prompt action against unexpected metallic particle entry.

Equipment purposes and principles
1. This equipment was developed to catch SUS wear particles caused by machine
@ runout (metallic contact) to prevent major problems and locate the generation
@ of particles.
2. It detects metallic particles based on the increase in metallic particle
@ attraction using the magnet in the sensor.

Features
1. It differs from metallic detectors in principle and use.
2. It is easily installed.
3. When the amount of attracted particles reaches a predetermined quantity,
@ an alarm signal can be transmitted.

Uses
1. For receiving inspection of purchased raw materials.
@ Identification of acceptance criteria.
2. For inspection of products to be delivered.
@ Installation of the detector before weighing or packaging equipment enables
@ detection of abnormalities before delivery.
3. Warning about attraction of magnets and evaluation of iron particle
@ removal of magnets.
4. Suitable for preparing control criteria and standardizing operations
@ conforming to ISO and HACCP.
5. Quality control of products to be delivered.
@ Preparation of data control charts helps improve client confidence.