"F"Anti-adhesive
surface treatment

"F"Anti-adhesive surface treatment adds microscopic roughness to steel surfaces through several machining cycles. Steel surfaces are polished based on powder properties, so polishing conditions vary with powder properties -- particle size distribution, particle shape, unit volume weight, and water content.
"F"Anti-adhesive surface treatment improves powder repellency and slippage on steel surfaces and dramatically aids in preventing clogging, bridging, and adhesion of powder in hoppers and chutes.
Conditions for powder adhesion and clogging


Current measures
(1) Applying force from outside : hitting (air hammer,etc.) and vibration (vibrator).
(2) Applying force from inside : Stirrer and air jet device.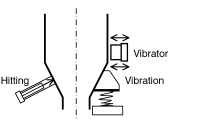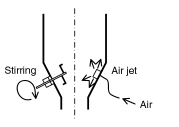 (1) involves a problem of noise, and (2) involves a danger of entry of different types of materials.

Features of "F"Anti-adhesive surface treatment
| | |
| --- | --- |
| 1) | It does not cause entry of foreign substances due to peeling of coating or film because steel surfaces are machined directly. |
| 2) | Theoretically, any steel material can be polished. |

Precautions
1)
"F"Anti-adhesive surface treatment -- determining specifications ? must suit the properties of the type of powder involved.
Specifications may change even if average particle diameter D50 is the same if particle size distribution differs.
2)
Determine specifications for "F"Anti-adhesive surface treatment requires data on grain size accumulation curves, grain size photographs, and on unit volume weight and water content. We determine specifications referring to data obtained from past work.
Actual data does not include data on the influence of water content, so it may take time to determine specifications for powder with high water content.
3)
The performance of the polished surface is deteriorated by wear caused by powder. When powders drop and directly contact the surface, surface conditions change based on the degree of wear. The surface must be repolished if any symptoms of deterioration in performance are found.
In considerable wear, it is recommended to extend the life of the polished steel plate by increasing surface hardness through low-temperature nitriding.
4)
Fingerprints (oil), dirt, and flaws, even if not visible, caused after "F"Anti-adhesive surface treatment may deteriorate the effect, but overall rarely cause any problems.

Use
(1) Prevention of adhesion of powders and clogging (bridging) in hoppers and chutes.
(2) Prevention of dropping of lumps from volumetric feeders.
(3) Application to iron particle removal equipment.
@@1) Prevention of clogging.
@@2) Prevention of accumulation on bar magnets to increase iron particle
@@@ removing efficiency.
Examples of polishing of hoppers or chutes
Examples of polishing of 400-long bar magnet
(Finishing with buffing No.320j
iFinishing by "F"Anti-adhesive surface treatmentj